Rob Naish
Rob is a Manipulative Physiotherapist who has worked with professional athletes for over 16 years. Rob has always believed if you want accurate diagnosis and treatment of the whole athlete, you need to be able to master the spine. This has given Rob a unique set of manual handling skills allows him to get faster results and improve performance long term so that problems do not keep returning.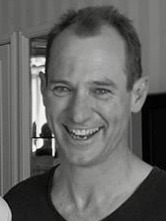 Rehab Protocol Skills
Having had 25 years' experience and worked in professional sport for so long has meant Rob has a unique skill set in a large range of rehabilitation protocols from disc prolapse, shoulder dislocation to hamstring strains using the latest research papers to back up each phase of progressive rehab to an elite level.
Knowledge and Teaching
As a Head Physiotherapist Rob has taught courses on neck injuries, shoulder rehabilitation and hip and groin injuries. He has written papers on elbow pain and cervical spine strengthening. In 2018 Rob worked with Curtin Physiotherapy School as a Clinical Tutor to Masters Students.
Player
As a Physiotherapist, it helps the clients if the physio has had their fair share of injuries themselves. Rob has played rugby, touch rugby, soccer, raced yachts, run half marathons and ran his first and last marathon in under 4 hours – which is not bad considering the size of his legs. This sporting involvement has helped Rob understand how his clients feel when they want to get back to their own passion on the field.
Qualifications & Experience
Bachelor of Health Science (Physiotherapy),1994 Auckland University of Technology, New Zealand
Master of Physiotherapy Studies (Manipulative Therapy), University of Queensland
25 years' experience in Musculoskeletal and Sports Physiotherapy
Head Physio for Tonga Rugby Union 2015, pre world cup tour
Head Physio Australia A Rugby 2008 and consulted with Wallabies 2009-2012
Fremantle Dockers assistant physio off season 2012-present
Head Physiotherapist for Emirates Western Force Rugby (2005-2012)
Head Physiotherapist for Saracens Rugby Football Club, London, England (2001-2005)
Head Physiotherapist for London Broncos Rugby League Club, London, England (1999-2001)
Clinical Interests
Neck pain
Hip and knee injuries (since had plenty of my own in these areas)
Post-surgical rehabilitation (Elite level programs for all injuries)
Professional Memberships
Member, Musculoskeletal Physiotherapy Association
Member, Australian Physiotherapy Association
Member, Sports Medicine Australia
Personal Interests
Family and kids sport
Just Started Swing Dancing badly
Hockey: second year of Over 40's ( Got a Flag in the Grand Final )
Sailing at Royal Freshwater Bay Flying 15's
Soccer Played Vets for Western Knights
Rugby
Touch Rugby
Back Story
After I left high school I didn't know what I wanted to do with my life. Who does? So I had a year travelling around England and Europe with a couple of school mates. But I knew I wanted to work with teams. I had played soccer to a representative level and loved the tight bond, hard work and mateship that goes with being in a team. I headed  to University and finished my degree in Physiotherapy. As soon as I was qualified I landed a job working in a spinal care unit. This taught me how lucky we are in life if we have our health and a body that allows go for a walk, run or bike ride whenever we want and not be deprived of the decision to do any activity.
After a few years of working in rehab jobs in Florida, Auckland and Mt Maunganui, I started working voluntarily for soccer, rugby and netball teams in both local and representative sides. My goal was to work for a professional sports team.
I made a decision that to be the best physio working for a team I needed to be exceptional at dealing with neck and back injuries. I still stand by this today. So I travelled to the University of Queensland to complete my postgraduate Masters in Physiotherapy Manipulations in 1999. This gave me the confidence to diagnose and more effectively treat anything. Injuries could range from a nerve injury in your lumbar, a disc injury in your neck to an ankle ligament tear.
I then got my first break with a job offer with The London Broncos Rugby League side. This taught me a lot about setting up my own processes  and athletic screening. It also taught me how brutal sport can be when you are near the bottom of the rung, as well as how important it is in life to celebrate your wins.
After two years in League I was then offered a job with Saracens Rugby Union in London. Here I was lucky enough to work in a bigger management team which gave me  a new appreciation of how important it is to have that team all working tight together, to ensure the team themselves are as tight under your guidance. I worked with a number of coaches here with Francois Peinaar, Buck Shelford, Greg Smith and Rod Kafer all showing me different styles of player management.
By now I was married and we had our first baby girl who was 2 years old and growing up in the wet drizzle of London. In 2005, the new franchise of The Western Force was built up.  They needed a Head Physiotherapist and we jumped at the chance to come home. I worked at Western Force from 2005 -2012. During this time I was involved as Head Physio with the Australia A Rugby side and assisted with the Wallabies 2010-2012. 
Over these years I have built up some beliefs about life and especially work. Our work is such a big part of our lives and it is so important to enjoy it. There are four points I think that make for a happy work life:
1. That by creating things we gain a sense of achievement
2. By continuously learning we grow
3. By working with great people in a team with humour we can have a laugh, and
4. By helping others we can have a positive impact on the world around us.